News: Sweeping changes of strings in Widelands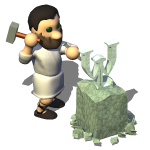 Community member GunChleoc has worked for months on making the experience of Widelands for international players better. This included going over all(!) texts in the game and refactor them to be easier to translate - for example by providing more context for translators, changing the ordering of elements in a sentence or supporting different forms of pluralization for different languages.
Now it is time to merge this work. This is from this forum post:
We are planning to merge a branch this week that contains huge string fixes. So, I recommend that everybody grabs their current translations from Launchpad and loads them into Virtaal or Poedit, so you will then have everything in your translation memories. After the changes, if you use these programs to edit the files, they will give you suggestions for strings that have small changes in them, so you won't have to translate them again from scratch.
The reasons for these changes are:
- Giving you control over the word order with placeholders
- Proper plural forms
- Proofreading of the English strings
- Improved formatting of campaign scenario texts

The campaign scenarios will be seriously broken, so I recommend that you work with both the old and the new version of the file side by side - some strings have been split into multiple strings. I will help with fixing these in Western European languages. I don't read the other languages well enough to help there though.
I will grab an archive of all translations before the change so they won't be lost, but you will also be able to get your translations from the locale folder in your Widelands installation. You will need Virtaal or Poedit to open those, since they are in binary format.
I will post again in this thread once the changes have gone through.
We plan to make the merge on March the 5th.
Update: This has been done now.
---
0 comments
Posted by SirVer on 2014-02-24, 19:40
Comments on this Post:
Reply to Original:
Log in to post comments!