News: New Elder of tongues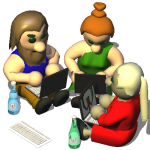 Widelands development is going pretty strong right now. We are working hard at networking, worlds merging, IRC bridging and bug fixing. One huge milestone that we already hit since build 18 was a massive string refactoring. This made our support for internationalization much wider and got rid of old cruft in texts and missions.
This endeavor was spearheaded by GunChleoc. She showed very strong dedication to improving the language in Widelands in general and the support for internationalization in particular. And by the looks of it she will continue doing that for the foreseeable future. This calls for a new position.
Hereby, I present you our new Elder of Tongues - GunChleoc. She will oversee and drive everything language, text and grammar related. So, if you have trouble with translations, if you'd like a ware to be renamed or if you want to help out with anything - she will be the person to talk to.
These are her welcoming words to the community.
Hi all,

as some of you are already aware, over the last few months I have been busy
ripping apart about half of our strings and putting them back together
again, with some help from SirVer. The plan is to make the strings as stable
as possible for the future, and to give translators the control that they
need for sentence structure and other grammar issues.

So, if you have trouble translating any string - for example, because a
placeholder is causing problems for your language, or there isn't enough
space on screen to fit your string, or if you think it should be commented
better - please don't hesitate to contact me on the translation forum, or
via IRC.

You are also welcome to contact me if you need help with using off-line
translation tools such as Virtaal or Poedit. Yes, I love them :)

---
10 comments
Posted by SirVer on 2014-04-10, 20:31
Comments on this Post:
Reply to Original:
Log in to post comments!