News: WiHack 2010 Reloaded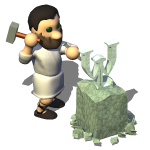 It's offical now!
The next WiHack will happen from the
29th October (late evening) - 1. November 2010 at the Entropia e.V.
We will play and program on widelands. Everybody is invited and as before, attendance is free!
Further information is available here; keep up to date:
Wiki Page: WiHackTwentyTenReloaded
Forum Post: clicky
It will be awesome and there will be a tournament too this time (this time for real, more information coming soon).
---
4 comments
Posted by SirVer on 2010-09-05, 21:45
Comments on this Post:
Reply to Original:
Log in to post comments!