News: The First Ever Widelands Tournament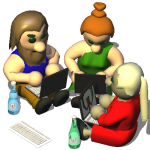 Let's play...
The WiHack 2010 Reloaded was just announced and I promised you a tournament. And so it shall be! Thanks goes to Kristin for the organisation of this event.
A quick run down:
Everyone (except for Kristin) can participate. However, for the brackets we need a number of players that is a power of two; so be quick with your sign up or you might be one of the few rounded off.
You do not have to come to the !WiHack to participate, you can also join in over the internet.
Finals however will be played while the !WiHack happens so we can watch the games life here in Karlsruhe.
Signup will only run for a week and a bit. So be quick or be out: Read the Wiki Page, then send a PM to Kristin.
The winner might get a T-Shirt.
I am very much looking forward to this. Note that competition is secondary to fun, but Kristin will look after Fairness as much as she can. And yes, I will participate as well.

Important Links:
---
0 comments
Posted by SirVer on 2010-09-08, 22:03
Comments on this Post:
Reply to Original:
Log in to post comments!