News: Tournament Final Review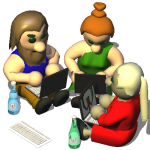 Tournament Final Review
With all the buzz about the !WiHack, the tournament final only got mentioned briefly. To make up for this, I want to conclude my tournament reporting with the summary of the game between ivh and myself.
The atmosphere on the !WiHack was fantastic. People gathered around computers to observe and discuss the game and there was cheering and oooh's when something interesting happened. I was cranking my music to maximum loudness to not get distracted! Fantastic feeling, really public viewing atmosphere.
The game was also quite intense. Ivh played very strong: he knew the map, had a game plan and executed it very well. He established a solid wood production and expanded rapidly to reach iron. He also invested in evade training of his soldiers and got his military power rising. As soon as he found iron, he started making new soldiers.
Myself, I made too little wood production. Especially I failed to put my foresters on the green spots - I decided to put them right next to my HQ where trees didn't grow very well. This slowed my down tremendously and everything went downhill from there: I was unable to get my soldier production going and as we met, ivh had a much stronger military force than myself. I tried to slow his push long enough to get my production going, but his continuous attacks brought me down in the end. The final blow was when he took my castle just before I was able to burn it down.
I am glad that I made it to the finals. I didn't think it would be so hard. So many good players in this tournament. I wasn't aware that so many people are so good at playing widelands.
Congratulations to ivh! He played very strong, much stronger than I did and I can only comment him for his triumphal march through the bracket. The T-Shirt is on its way to him by now and, who knows, maybe he will send us a photo from him wearing the shirt?
Update: An there is the image. Thanks ivh! (Click for bigger image)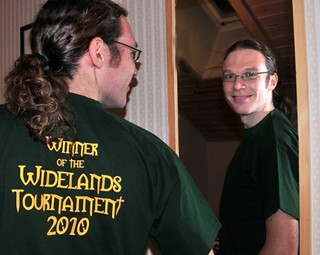 ---
4 comments
Posted by SirVer on 2010-11-02, 15:35
Comments on this Post:
Reply to Original:
Log in to post comments!