News: Build 15 rc2 released!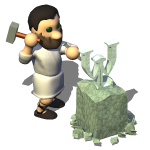 Roughly ten days after build15-rc1 we offer a new release: build15-rc2. We fixed 23 bugs compared to the first release candidate which ranged from sever (scouts led to desyncs in network games, crashes in the text handler) to minor. We also decided to change some functionality to make the game more balanced, namely the scout runs a little longer and when defending, healthy soldiers will be preferred over wounded.
We also removed the functionality to register an account on our meta server. This is to handle future changes that we plan that would conflict with this functionality.
Please download this version and start playing:
https://launchpad.net/widelands/+download
We will test drive this candidate for approximately two weeks. If no bigger issues show up, we will release build15 then as a new stable release. Please report all bugs you encounter in this release candidate at our bug tracker:
https://bugs.launchpad.net/widelands
Edit: Source packages, Windows builds and Mac OS X 10.6 (64 bit) are online. Linux binaries will follow shortly.
Edit: Due to slow internet over the weekend, I couldn't upload the remaining packages. They are online now: Linux 32 bit, Linux 64 bit and Mac OS X universal binary.
---
2 comments
Posted by SirVer on 2010-03-26, 10:45
Comments on this Post:
Reply to Original:
Log in to post comments!