News: Build 15 rc1 released!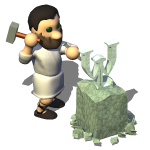 We now offer a build candidate for the upcoming build15 release. The idea of build candidates is to test drive a release and see if it is good enough to become a stable release to the public. So download the version for your operating system and start playing:
https://launchpad.net/widelands/+download
The source package, a linux binary and a windows binary are already up. Mac intel binaries and Linux x86 binaries will follow later today.
We will test drive this candidate for approximately two weeks. If no bigger issues show up, we will release build15 then as a new stable release. Please report all bugs you encounter in this release candidate at our bug tracker:
https://bugs.launchpad.net/widelands
And I want to remind you all of our semi official weekly games on saturdays. Just come into the chat and see if someone wants to play. We will play build15-rc1 while the testing lasts.
Edit: Sorry for the delay, but Linux 64 and Mac OS X 10.6 packages are now online.
---
10 comments
Posted by SirVer on 2010-03-17, 11:51
Comments on this Post:
Reply to Original:
Log in to post comments!