News: New Elder of graphics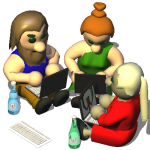 A new elder of graphics
Development is rolling onwards, but the most advancements in the last few weeks were clearly on the graphics front: Chuckw finished all worker models for the atlanteans (after having finished all workers for the barbarians earlier) and is tackling the remaining tribe (the empire) charging forward in our struggle to remove concepts graphics from the game. I have seen Chuck learning all the gory concepts of blender, bzr, launchpad and widelands internals in a continuing strive to make things better in this last year and his persistence and dedication made me realize, that he is the one that can finally relieve Alexia Death from her elder duties.
So let it be heard: Alexia Death, our longest serving and historically most important elder (as she more or less got the graphics ball rolling for widelands) resigns. Actually she wanted to for a very, very long time as she is extremely busy and she only kept the job because no one was qualified to do it (oh yeah, and because I begged her to

). Alexia will stick around, but this is the definite time to say a huge thank you to her in the name of the team and the community for all she did so far for widelands! You so rock, Alexia.
Thanks go also to Chuck for taking over. As the new elder of graphics, he is the one you need to be talking to if you are unhappy with anything visually in widelands or want to contribute graphics in any kind of way. He will also monitor the graphics forum which is the one place to discuss graphic development. Also, he will be administrating the widelands-media project on launchpad. Chuck, welcome to the next level and thanks for taking over.
Here are his welcoming words to the community:
Graphics play a huge role in virtually every computer application nowadays, especially games, and Widelands is certainly no exception. A visually rich and entertaining environment has been under development for Widelands since its inception and there is much to show for the efforts made thus far, but as Widelands evolves there is still much that remains to be done.

I would like to add my personal thanks to Alexia, not only for all of the work she has done, but also for her tremendous help and encouragement in getting me on my feet with the project. (Believe me that was no small task. ) Alexia, you have made a great example to follow.

As your new Elder of Graphics, I'll be here to coordinate graphics development for Widelands and work with you. I'll serve as a contact point for requests and questions, and to receive any suggestions and finished works you may offer to contribute to the Widelands project.

I look forward to working (and playing) with you and want to see any samples or graphic contributions YOU may have to offer or point you to where we can use your help.

Together, let's make Widelands as graphically entertaining to the eye as it is to play.

Cheers!
Chuck Wilder (chuckw)
---
2 comments
Posted by SirVer on 2010-08-03, 15:59
Comments on this Post:
Reply to Original:
Log in to post comments!