News: Map contest: And the winner is...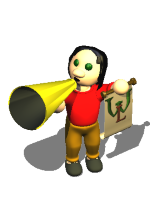 Finally our first map contest came to it's end. And so I am proud and happy to present and congratulate the winners of the contest. First of all we really have to say that all final candidates designed high quality maps and each of their entries was deserving to get one of the first places. The final participants already gained two prices: A place on our developer list and the knowledge, that their maps will be part of our future releases.
But now it's time to announce the winners:
The map "The far north" by Kamil Wilczek (Another Barbarian)
The map "The pass through the mountains" by Manuel Holzmeier (Quappo)
Both won a Widelands T-shirt and perhaps we can even tickle them to send us a picture of them wearing it
---
0 comments
Posted by Nasenbaer on 2008-09-22, 18:40
Comments on this Post:
Reply to Original:
Log in to post comments!