News: We have a new Elder of Graphics!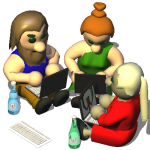 I would like to welcome our new Elder of Graphics - Alexia Death
You will have seen her work not only in the more recent Empire buildings, but I believe also in the older Barbarian tribe graphics.
She has the following message for you all.......
Greetings Widelands community!
As your new Elder of Graphics I'm the person to ask if you need a graphic or to bring your finished work when you have made some, I'm always happy to see a contribution

Lets make Widelands not only great to play but also great to look at!
Yours,
Alexia Death
P.S If you are curious about me or my name my wiki page here contains some links that might satisfy that curiosity.
You can send Alexia a PM here.
---
0 comments
Posted by DaaL on 2007-03-06, 23:10
Comments on this Post:
Reply to Original:
Log in to post comments!