News: New Elder of Translation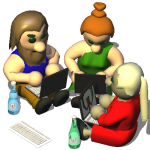 I would like to welcome our new Elder of Translation - Philipp Niemann who goes by the username Azagtoth
Those of you who subscribe to the mailing list will be very familiar with the name as Philipp is a regular contributor.
Philipp has the following message for you all.......
Hello translators, hello widelands,
if you have any concern about the translation of widelands, feel free to contact me. Preferably use email. You will find the address on my wiki user page.
As I am quite new to this job, be aware that I might need some time to understand what you want. Just keep in contact.
Happy playing,
Philipp
You can send Philipp a PM here.
PS. This post was previously occupied by Peter Schwanemann, who did a fantastic job and devoted much time to the Widelands cause, our thanks go to Peter for his dedication.
---
0 comments
Posted by DaaL on 2007-04-21, 22:30
Comments on this Post:
Reply to Original:
Log in to post comments!