News: FreeBSD Port available now.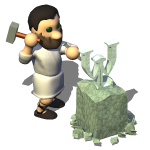 Bartosz Fabianowski has provided a !FreeBSD port of Widelands.
The port has been committed to the !FreeBSD repository a couple of days ago.
Users can conveniently build and install Widelands from source straight away. In a few days, the package build cluster should start providing binary packages as well.
You can find more information about the port here... http://www.freshports.org/games/widelands/
Thanks Bartosz!
---
0 comments
Posted by DaaL on 2007-04-23, 12:30
Comments on this Post:
Reply to Original:
Log in to post comments!