News: Build21 Release Schedule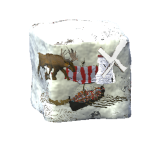 Widelands is now in Winter Time Freeze.
All critical bugs are now thoroughly snowed under and it's time to announce the schedule for the remaining release steps.
On Friday, June 26, 2020, at 13:00 CEST, Widelands has gone into Winter Time Freeze. From now on, no changes other than translation updates and AI training rounds are permitted at all. Only the most critical bugs are reason enough to thaw up this freeze.
The deadline for translations and AI training will be Saturday, July 11, 2020, 08:00 CEST. After this point, the repo will not change at all in preparation for the release. (Due to a necessary last-minute string change the original deadline of July 8, 2020, 21:00 CEST was extended.)
The first (and hopefully only) release candidate will be published on Saturday, July 11, 2020. The actual release shall follow one week later on Saturday, July 18, 2020.
---
This post would get too long if I mentioned all the great improvements since the release of Build 20, so here is an incomplete list of the highlights:
A much stronger AI

New "Peaceful Mode" and several new starting conditions

More detailed user controls for game speed, map scrolling, and many properties of building windows; new hotkeys; re-added quick navigation with ',' and '.'; partly redesigned and modernized user interface

Allow the player to choose the soldiers to send in the attack box

New planning-ahead ship scheduling algorithm

Ferries carry wares over waterways

Improved display of work areas

Spritesheets and mipmaps provide high-quality graphics when zooming in

Numerous fixes and improvements to the tutorials and scenarios

New editor tool to resize the map

Lots and lots of balancing tweaks to all tribes

Extensive behind-the-scenes source code cleanup and refactoring

Support for Big Endian architectures

Widelands is currently fully translated into Catalan, Finnish, French, German, Low German, Danish, and Dutch; and >75% into Scottish Gaelic, Spanish, Japanese, Polish, Russian, and Portuguese.
---
8 comments
Posted by Nordfriese on 2020-06-07, 16:53
Comments on this Post:
Reply to Original:
Log in to post comments!