News: Widelands Vacations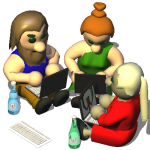 Some personal news
I have great news: I am done with my last job and I have free time till September to do whatever I want! Isn't that awesome? And because I do not know how much I will be able to invest into Widelands when I start my next job, I want to spent some time working on it in these months: I plan to invest at least two hours a day, six days a week into Widelands for the foreseeable future. There are a lot of ideas and projects floating in my head currently: better text rendering, better help system, stackable animations, seafaring, atlantean scenario number 2, editor improvements, helping shevonar with the new site.... But I will start out by tackling the text rendering and the help system. This basically goes hand in hand.
I will be writing a kind of progress report/diary on my personal blog sirver.net around once or twice a week. I put this on my personal blog because I feel that the stuff is too technical for this news feed. Everybody is invited to to join me there!
---
1 comment
Posted by SirVer on 2012-06-04, 10:55
Comments on this Post:
Reply to Original:
Log in to post comments!