News: New Elder of sound & music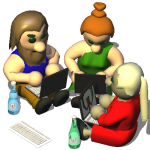 New elder of sound & music
The long vacant position of elder of sound & music finally has a new owner. Introducing: Solatis. He is a very gifted composer with a technical background which just makes him the perfect match for the job.
Let's leave the introduction to Solatis himself:
Hello,

I'm Jan Bruns (alias Solatis) and I just got the position of your new elder of sound and music.

I was making music on my own for about 10 years. Mostly just for fun and just for myself. Since I've got better by-and-by, I've started to look for some place or some project on the web which I could compose music for. So, even though I have not played widelands itself very often, I've known widelands for some time, because I'm a great fan of settlers. I've played the old settlers 1 very often.

To cut a long story short, I've composed some piece of music for widelands and posted it here in the Sound & Music-Dev forum. So !SirVer asked if I will be up for the currently vacant job of an elder of sound & music. After some clarification emails what this exactly means, I've just accepted. Hopefully it will work out well.

I also have some development experience and already had a first look at the sources - especially the code for sound and music.

Feel free to pm me for any questions or proposals.

Bye, Jan
So Solatis job includes - but is not limited to - listening to music, talking to sound & music artist, moderating the Sound & Music forum and finally deciding what will be included in further releases of widelands. If you feel like making a sound effect for widelands and do not know which one or if you like to write a tune but have no clue where more music would fit the best, contact him.
---
0 comments
Posted by SirVer on 2009-04-02, 17:29
Comments on this Post:
Reply to Original:
Log in to post comments!