News: Elders wanted - Graphics and Sound/Music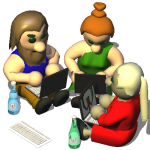 Widelands needs YOU!!!
We need an Elder of Graphics to oversee the graphical development within Widelands.
We also need an Elder of Sound & Music to help with the implementation of audio within the game.
All applicants must be familiar with svn.
For further information, or to apply for either post please contact SirVer, who will be glad to help
---
0 comments
Posted by DaaL on 2007-03-02, 16:20
Comments on this Post:
Reply to Original:
Log in to post comments!