News: Translations to be moved to Transifex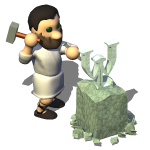 Back in 2010, Widelands decided to move away from !SourceForge which had hosted the game's development for the first 8 years of its existence. Launchpad was chosen as a new and very prominent platform over !GitHub mainly for its superior bug tracker and the ability to have Widelands being translated by drive by contributors in the web frontend.
However, development of Widelands means constantly tweaking and changing our strings - be it just by fixing typos or changing some words around - and Launchpad made for a frustrating experience with this: it would not recognize "fuzzy" matches, i.e. if you change one character in a string, the translations would be thrown away completely and the string marked as new and untranslated.
Translators have voiced frustration, but web translation was providing so many more good translated strings than the offline process we had before and there was just nothing better around at the time. However, we have now found a more suitable platform with which we can address this issue: Transifex. So, we have decided to move our translation effort off Launchpad.
Transifex is a professional tool for translating software which is free for open source projects. It offers us plenty of nice features that makes collaborative translating easier:
Online Translation Memory with Fuzzy Matches
With Transifex, we will get our own translation memory that will display similar strings below the string a translator is currently translating, and the differences between the strings can be flagged up. There is also a percentage shown as to how good the match is. Translations can then be recovered with a single mouse click and edited as needed. We are also uploading the Build 18 translations to give translators a baseline to work from.
Working Offline and Source Code Integration
Translators will be able to instantly download translation files as well if they prefer to work offline and then upload them again. The new and updated translations will appear immediately. From the programming side, we will also be able to automatically update templates and pull the new translations as before.
Glossary
Transifex also offers a glossary function, so we have started moving our Translation Dictionaries over there. The entries have to be added manually though, and we'll try to copy everything over for you from our wiki before we do the switch. If you prefer to work offline, you can download a glossary table for your chosen language.
Translating Widelands is a time consuming and difficult task and we appreciate that so many community members put so much time into this task (Thank you!!!). Changing and adding strings is a necessary evil in developing the game and will not stop - but with our move to Transifex, we hope that we will make translating Widelands less frustrating and more fun and rewarding.
The move is planned for sometime next weekend. We encourage all our translators to sign up now, so you can have a look around. The new translation templates (called "Resources") can be found on Transifex. If you have a !GitHub, Google, !LinkedIn, Facebook or Twitter account, you can also use that instead of specifically signing up for Transifex.
---
0 comments
Posted by GunChleoc on 2015-02-08, 17:40
Comments on this Post:
Reply to Original:
Log in to post comments!