News: WiHack Reminder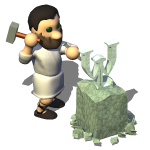 Wihack 2011 Reminder Post
The WiHackTwentyEleven is right around the corner: Less than 6 days from now it will start and we have quite something planned.
There will be some discussion about controverse (or maybe not) new features and changes in the community. For examples I will push the idea of creating soldiers not in warehouses but in a special low cost training building - an idea I was opposed to, but which was sold to me by Astuur recently. Also we will discuss allowing immovables on triangles (and not only on fields like they are currently) - this idea is also not new, it was suggested some years ago that all immovables should be on triangles. The original idea was voted down because it would significantly change the game play. The current iteration is more thought of as an visual improvement - but some game influencing factors are still to be decided.
Of course, we will not only debate, discuss and tweak, we will also work on non-controversial stuff to increase the awesomeness of widelands: new scenarios, new features, bug fixes and so on. And we can use every helping hand! See two posts earlier for details, or look at WiHackTwentyEleven in the wiki. If you can't make it to the wihack but want to help out, just come into the IRC chat and we will help you out. We obviously need c++ coders, graphicians, html gurus, css understanders, python hackers. But we also need people willing to make new maps - because we are lacking good, fair, balanced multiplayer maps. Also, some scenarios need map fixing. So if you want to, you can work on that! Basically: It doesn't matter what kind of skill you have, it is likely we need you for something.
oooh year: we will also play a bunch, so if you want to do that come around or join us in the IRC Chat!
See you this weekend on the Wihack! omg, so excited!
---
0 comments
Posted by SirVer on 2011-10-30, 21:04
Comments on this Post:
Reply to Original:
Log in to post comments!