News: Webserver and Build16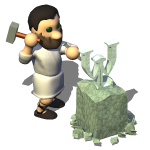 Time for some news and a status update

:
What happend to the Website?
As you may have noticed, the website was offline for some days. Such things are obviously more likely to happen, when the only person, who can take care of the server is out of reach (this time on vacation) ;).
However for now the webserver is online again and we cross our fingers, that it at least stays online until !SirVer is back home and finds some time to dig into the problem.

What is the status of Build16?
Well, best check the status page of build16-rc1 and take a look at the changelog

- We are walking big steps forward towards Build16-RC1 - at the moment only 4 out of 169 bugs are left...
---
2 comments
Posted by Nasenbaer on 2011-03-10, 08:43
Comments on this Post:
Reply to Original:
Log in to post comments!