News: Play day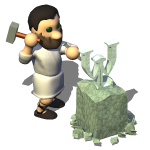 Official Play day
hjd suggested to hold another play day and - you know what? - he is right about that. Too long have we not played together and that is what this is all about, isn't it?
Following his suggestion, the next official play day will be on Saturday 30th July. We will be playing build-16 so anyone can join in the fun. Meeting place is like always the IRC Chat. If you are planning to join, just leave a comment to this news item or voice yourself in the forum thread.
---
15 comments
Posted by SirVer on 2011-07-13, 10:03
Comments on this Post:
Reply to Original:
Log in to post comments!