News: 3 things that make me happy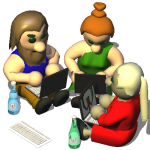 Three good things to share
Participation required people! Read on.
1. Play-Day ahead!
This sunday is a official play day. Just join us in the IRC Chat to get some games going. You can voice your will to participate in the comments to this post or in the corresponding forum post. I am looking forward to play a game or two as well this Sunday.
2. !WiHack is coming back
I have to admit, we are late with getting this rolling this year. But we definitively want to have another !WiHack this year as well. This time, we try something new: I set up a doodle this time with some potential weekends in the next few weeks. The poll will run for approximately 14 days; I will then pick a suitable day and approach the guys from Entropia e.V. and see if they are willing and able to host us on the specific date. Hopefully, this will work out.
The !WiHack will be similar to the last two: a lot of fun and bursting with bristling activity, coding and playing! Check the news archive for more information about the past ones.
So, if you seriously consider joining in on the !WiHack this time, just head over to the Doodle Page and click on the dates where you could make it.
3. The Website team needs more hands
Finally, a great technology change has happened: we updated the site to run a less ancient software stack and we finally deployed some of the work that the website team have had in the making for a while now. So, what you see now is mostly the work from hjd, aber and janus.
However, the Elder of Homepage janus asked me to motivate more of you guys to join in the fun and help out with the homepage. The following skills are searched for, any combination is welcome:
2D graphics skills for buttons and there like
HTML
CSS
Django/Python
The following projects are currently underway:
Make the site valid HTML 5
Beautify design and layout (especially for the help pages).
whatever you think should be enhanced on this site
This is your chance to show your work to roughly 20.000 people per month!
janus can be reached via private message on this very site or (preferably) in our IRC Channel. He is constantly idling there, just poke him and he will answer eventually.
---
2 comments
Posted by SirVer on 2011-08-26, 20:03
Comments on this Post:
Reply to Original:
Log in to post comments!