News: What we've done lately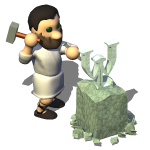 It's time for an update on the latest developments

!
Since Build14 a lot of things have been changed, fixed and added. And even some new faces joined our forces (I better do not name anyone, else I will surely forget one and will be tortourisly executed in a long Widelands session

)
So let's go ahead for the changes in Widelands:
Our musicians composed a bunch of very nice new songs!
The automated map generation feature was improved a lot and resource generation, as well as object generation, was added.
The sourcecode was cleaned up, memory leaks and other problems were fixed and many files were reordered. (surely not interesting for the gamers, but still even an improvement for them, as the game should run even more stable now.)
The transportation system was improved - now there should be a lot less wares that are carried over the whole map.
The message system was improved - now it shouldn't show doubled messages anymore, it plays a sounds once a message is arrived and will even inform you, if you are under attack.
Fights were improved - now opposing militarysites will not burn down anymore but will be captured by your soldiers.
And many more things I forgot, a ton of bugfixes and not to forget the two or three new bugs we added ;)...
So all left to say is: Go and get yourself an up to date development version :)!
Addition:
There will be a Widelands Developers Conference after new year... more about that later on

---
0 comments
Posted by Nasenbaer on 2009-11-26, 22:59
Comments on this Post:
Reply to Original:
Log in to post comments!