News: Build14 is near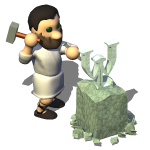 Finally we decided to release Build14 in next time.
Here are some citations that show in which direction the release plan and release date are going - but well just that, no 100% assured release date yet ;):
Dwarik:
the svn contains many new features, including ggz support. I think it might be a good idea to release a build14 so ggz can be released to all our users and distributions that support widelands.

In short, i would suggest a feature freeze Saturday June 20th with a first RC on the 4th of july. That should leave everyone who is still working on something with the opportunity to get their features in for the next release. If all goes well we would have a build 14 release before the end of july.
!SirVer:
The time plan Victor proposes sounds reasonable to me; I would suggest
making a tournament with the RC: every participant must use RC14 and
play; all bugs must be reported. We will get valuable beta testing
this way. We'd also had a stronger community binding.
So far...

---
0 comments
Posted by Nasenbaer on 2009-06-04, 14:14
Comments on this Post:
Reply to Original:
Log in to post comments!