I don't think that a solution for addressing soldiers by skill will be focussing
in the individual soldier (like it now is inside military buidings), but
I wondered if a solution could be found to graphically display a soldier's skills
in a way that would show his properties with their true strength and ready to be
compared with soldiers of other tribes.

After much testing for visibility and recognizability I may have found a way.

I have redesigned the four quadrants (Attack, Defense, Evade & Healthpoints)
in the way of a 4-axes Kiviat-diagramm (not showing the axes themselves),
but I had to abandon the strictness many times
for a better discernability.

I have set the percentage for the highest value achievable in the game to be 100%.
It's 51 for attack (Barbarians), 22 for Defense (Atlanteans), 64 for Evade (Atlanteans)
and 214 for Heathpoints (Barbarian and Empire).
All other values derive from that.
The individual healthpoints vary from soldier to soldier as there is obviously some randomness in their creation.
(see here ) I have used the average for the display.

Since our little icons are 10 by 10 pixels, I have one pixel for each percent.
So the sum of all white (or green) plus all red pixels, equals the percentage of the optimum.
Combined together in the game they look like this: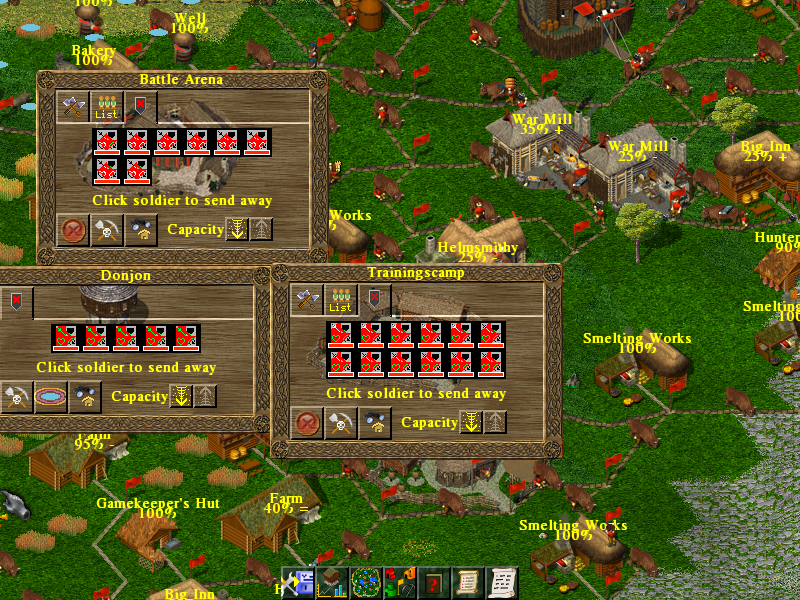 I am not very fond of the solution I found.
Yellow, instead of the green, gave better contrast to the red, but was hard to tell apart from the white.
There may be some room for improvement with the colors.
The simple logic (larger red area is more powerful) and green means "best possible" has some benefit, but all in all I think they still are too hard to grasp at a glance.
I'd gladly try something else, if anyone has a good idea, but if not, I'd keep the stuff in case it is wanted at some time.