Map: Two Campaigns Mark ii
Maps
» Two Campaigns Mark ii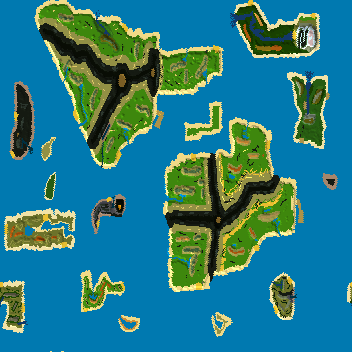 Description:
These two large islands surrounded by small islands provide an excellent place to build civilizations. However, there are more than two tribes wanting to settle here. There were people living here before and they placed standing stones to mark places where they found good fishing. They found gold on the small islands and moved some to their villages. They burried it near places they used for shipping and marked it with stones.
Hint:
Use the gold near your village to build ships before you build up your army. Locate gold on the small islands to pay for your army. You need to also be aware that some very small islands have never been explored and do not have any port space yet.
Comment by uploader:
Here is another map for those using Widelands 1.1 or newer.
This map allows the use of Ferries so you can cross the wider areas of water.
There are two of my "Signature Landing Ports", one on each of the two largest Islands. If you are playing a "Single User" game, build a ship as quickly as you can and build ports on both sites to stop any AI tribe from blocking your access later.
PS This map file is an update for the map I uploaded on 2023-07-05. Unfortunately there was a problem accessing gold on the top of the snow mountain on one of the islands. That issue has been resolved with this file.
Basic Information:
| | |
| --- | --- |
| Author: | Lawrence |
| World: | One World |
| Dimensions: | 352 x 352 |
| Max. Players: | 8 |
| Downloads: | 116 |
| Comments: | 1 |
| Rating: | |
| Upload: | by Lawrence at 2023-09-26, 01:44 |
This map requires a version of Widelands 1.1 or newer!

Download this map
Comments on this Map:
Reply to Original:
Log in to post comments!