Map: Tripple Islands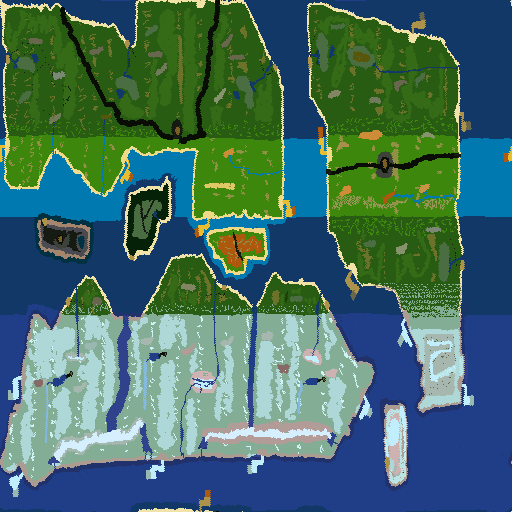 Description:
There are eight tribes all desiring to own these three islands. There are resources on all the islands but some areas have more than others. Fish can be found in running water and around the Ports. There are even more fish where Lava has entered the water.
Hint:
Build some ships as soon as you find your first Gold deposit. There is a single Gold mine burried close to your nearest Port discovered by previous inhabitants. It is marked by a standing stone. There is more gold on the smaller Islands and in high mountains.
Comment by uploader:
Here is a BIG map for those who like VERY long single player games

Actually I did build this map with those who play on-line in mind. There are 8 tribes possible with this map; It is also very large - 512 X 512. I have set up three large islands and some smaller ones just for resources [Gold :-)]. This map also has my signature landing ports that guarantee a safe initiation of an invasion of another tribe by ship.
This has taken a couple of months to build and incorporates all of the map building skills that I have learned. Again I would like to thank everyone for their effort in building such an amazing game. Special thanks to those who have given me valuable help with how to use the editor.
I have thoroughly tested the landing ports as well as completely capturing the whole of one island. I did not focus on the precise time I spent but the last 6 days have been pretty much devoted to playing this map at speed 6 [Normally I play at speed 1 and enjoy watching my tribe living their lives :-)]. I wanted to get this map ready for upload before the end of the year.
Basic Information:
| | |
| --- | --- |
| Author: | Lawrence |
| World: | One World |
| Dimensions: | 512 x 512 |
| Max. Players: | 8 |
| Downloads: | 440 |
| Comments: | 1 |
| Rating: | |
| Upload: | by Lawrence at 2021-12-27, 06:55 |
This map requires a version of Widelands build 19 or newer!

Download this map
Comments on this Map:
Reply to Original:
Log in to post comments!