Map: Tasmanian Black War
Maps
» Tasmanian Black War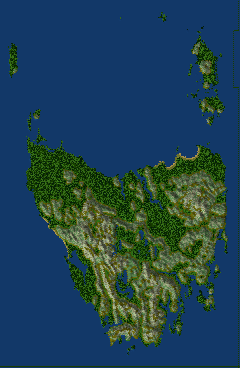 Description:
Welcome intruder! You're like an european conqueror from an early 1800's when they settled the Van Diemen land - later known as Tasmania. Between 1828-1832 there was a war called Black War in which british empire eradicated almost an entire aboriginal population from the Van Diemen land. The map simulates a scattered british empire but without any advantages - actually it offers some great disadvantages and you will likely have a hard time conquering Tasmania. During the historical Black War the ratio between europeans and aboriginals was around one against ten but this time they're armed to the teeth for a revance. Additional tags: challenge, strategic, beautiful, real world area, scenario
Hint:
This map is intended to be played as a single player scenario from blue players' starting location. Choose barbarians for the rival tribes and play with an empire. If you want to lose then put them all on the same side but at least I prefer playing every man for himself with an end condition of 50% land area control for 20 minutes. This map isn't suitable for short games and one game will likely take more than ten hours. AI has great capability on this map. One of the computer players will likely also begin seafaring and competes from the best harbor places on the Tasmanian coastal, so you've been warned!
Comment by uploader:
There's also two alternative versions of this map available, but not yet uploaded. One of them is not so seafaring-heavy and one has inland start for the player and so it is much shorter to play.
Basic Information:
| | |
| --- | --- |
| Author: | Solstice |
| World: | One World |
| Dimensions: | 240 x 368 |
| Max. Players: | 4 |
| Downloads: | 296 |
| Comments: | 3 |
| Rating: | |
| Upload: | by Solstice_s_Return at 2020-01-29, 22:23 |
This map requires a version of Widelands build 19 or newer!

Download this map
Comments on this Map:
Reply to Original:
Log in to post comments!