Map: Paradis perdu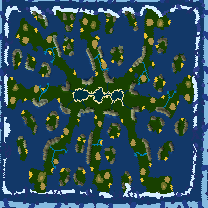 Description:
Among eight countries, choose yours... May it, with the islands you will annex, bring you glory and profits. There will be no escape : all tribes are linked by the center of the world.
Hint:
The players has been positionned clockwise. You can draw water where there is grass. The are fishes in every body of water. Ore can be found in small quantities near your starting point and on the islands, and in greater quantities in the middle of the map. Sand represents the places where port can be built.
Comment by uploader:
After few games to test it, this map seems to fit quick (in wideland universe) and balanced. All players are linked from map center but there is seas and island to extend your territory / economy. Have fun !
Basic Information:
Author:
Grostarin
World:
One World
Dimensions:
208 x 208
Max. Players:
8
Downloads:
378
Comments:
0
Rating:
Upload:
by

Ex-Member

at 2020-04-26, 10:33
This map requires a version of Widelands build 19 or newer!

Download this map
Comments on this Map:
Reply to Original:
Log in to post comments!