Map: New Warriors template
Maps
» New Warriors template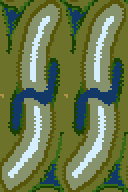 Description:
Template of the new version of the popular Three Warriors map. Extend to a player number of your choice with the ''copy paste script'' found in the map editor forum. Needs a dev build for debug console. Place the script in your main (widelands.exe) folder. Open with text editor and check player number and the coordinates in the loops to stamp down the correct part. Save. Expand map dimensions and open debug console F6. Type >dofile(''copypaste.lua'')<. Enter. Wait, it can take some time with bigger maps. Place animals and starting points for new players. Feel pround like a new map god and have fun

Hint:
Borders will form with your left and right neighbours in FFA and 1st team suggestion. Take 2nd suggestion for one friendly and one hostile border.
Comment by uploader:
Template to create your own version of New Warriors depending on your player number.
Basic Information:
| | |
| --- | --- |
| Author: | Gilb inspired by Quappo |
| World: | One World |
| Dimensions: | 64 x 96 |
| Max. Players: | 2 |
| Downloads: | 327 |
| Comments: | 0 |
| Rating: | |
| Upload: | by Gilb at 2021-02-14, 20:03 |
This map requires a version of Widelands build 21 or newer!

Download this map
Comments on this Map:
Reply to Original:
Log in to post comments!