Map: dust in the wind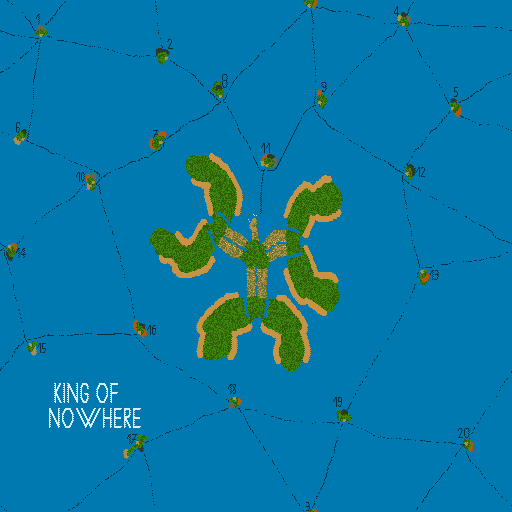 Description:
You are surrounded by six enemies with more space and resources than you. land offers you no opportunities, so you must build your empire among faraway small islands, scattered like dust in the wind. Can you make your economy work under those conditions?
Hint:
This is an excercice in building an economy over long distances, not at finding small islands in a large ocean like needles in a haystack. For that reason, you can find the 20 islands by following the paths of darker water. They are also numbered for the player's convenience. Minable areas are color-coded so that you don't need to bother with geologists.
Comment by uploader:
Another one of my challenge maps. This time you have good land and plenty of ores, you just have to deal with the craziest transportation system ever devised for this game. Be ready to make tons of shipyards. I've been working on and off on this map for over one year because I had a hard time finding a good balance. Also, the actual difficulty is a bit random, as the six computer players, while having very similar starting conditions, can develop in very different ways.
Incidentally, this map also doules as a good test for shipping and economy algorithms, and one bug has already been found while playing it.
Beat this map fast! If a better shipping algorithm is implemented, you'll get less bragging points
Basic Information:
| | |
| --- | --- |
| Author: | King of nowhere |
| World: | One World |
| Dimensions: | 512 x 512 |
| Max. Players: | 8 |
| Downloads: | 1177 |
| Comments: | 5 |
| Rating: | |
| Upload: | by king_of_nowhere at 2017-01-21, 00:03 |
This map requires a version of Widelands build 19 or newer!

Download this map
Comments on this Map:
Reply to Original:
Log in to post comments!