Map: Desert Tracks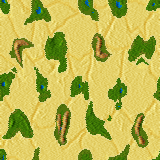 Description:
This is a desert map which all resorces is more rich outside. There is very poor resorces in the homeland. Try expand along the roads to get more land space for building and various necessaries.
Comment by uploader:
This is a four player maps: Desert Tracks.
This map probably makes Atlanteans more superior, because of the little tracks spread everywhere,the tracks is only allow small building( for military building most of time) building on it. And Atlanteans can build small tower on the tracks.
To expand the territory, you have to keep building smallest military along the tracks to finds water, fish, trees, stones, metal ore... (I don't know why there is water everywhere even I just don't put them there, can someone tell me how?).
There is only little resources and spaces in the mainland, so you must want to expand as soon as possible.
And final, each mainland has unique outline, pick whatever you like and enjoy it!
Basic Information:
| | |
| --- | --- |
| Author: | Tree |
| World: | Desert |
| Dimensions: | 160 x 160 |
| Max. Players: | 4 |
| Downloads: | 809 |
| Comments: | 0 |
| Rating: | |
| Upload: | by tree at 2013-06-16, 12:16 |

Download this map
Comments on this Map:
Reply to Original:
Log in to post comments!