Map: Contested Island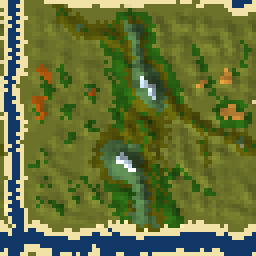 Description:
Weitgehend karges Land ermöglicht zwar die Landwirtschaft, aber es ist nicht überall genug Grundwasser vorhanden um Brunnen zu versorgen oder gar Bäume mit Wasser zu versorgen. Ein Gebirgszug trennt euch von eurem Konkurrenten - wer kann sich die Insel sichern?
Hint:
Dunklerer Boden zeigt Wasseradern an. Es ist möglich das Gebirge aufzuforsten. Die Bodenschätze im Gebirgszug scheinen rar zu sein. Es gibt zwar auch Bodenschätze an den Startpositionen, aber nicht viel Platz für den Abbau - wofür entscheidet ihr euch?
Comment by uploader:
Bin mir nicht sicher ob die AI mit meiner Idee wie ich die Ressourcen am Startpunkt verteilt habe umgehen kann - möglicherweise ist Kartenkenntnis erforderlich. Im Test hat sie zumindest fröhlich dran vorbei gebaut.
Finde die Karte bislang trotzdem gelungen, weshalb ich sie gerne mit euch teilen will. Freue mich über Feedback.
Basic Information:
| | |
| --- | --- |
| Author: | Denethor |
| World: | One World |
| Dimensions: | 64 x 64 |
| Max. Players: | 2 |
| Downloads: | 52 |
| Comments: | 0 |
| Rating: | |
| Upload: | by Denethor at 2020-06-07, 18:03 |
This map requires a version of Widelands build 21 or newer!

Download this map
Comments on this Map:
Reply to Original:
Log in to post comments!