Map: concentric rings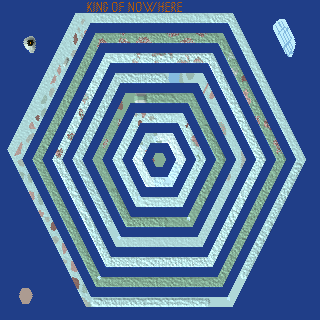 Description:
A map for solo challenge. You start from the middle, and you gradually fight your way outside. At every ring you will find a new enemy, each stronger than the previous one. Kill them fast: every ore your opponent digs from the mines is one less ore that you will have to fight the next ring. But you will also have to fight with your stretching logistics. Port spaces are under the enemy headquarters.
Comment by uploader:
Another solo challenge by King of Nowhere! This is my favorite solo challenge map so far. Probably also the most difficult - though great escape with barbarians vs 7 atlanteans or no metal challenge with atlanteans were fairly hardcore too. What I like about this map is the adaptability and creativity required. The other maps were relatively straightforward: there was a clear way to win, you just had to do it right. In concentric rings, you need to adopt several different strategies as the game progresses and your main problem switches from lack of space, to lack of resources, to unmanageable travel times. To win this map you need to master many different aspects of the game, from road building to warehouse micromanagement. Some of it was serendipitous. I couldn't defeat the map at first, but just as I was about to change it to reduce the human's disadvantage, I had an eureka moment and found some very creative solutions. It was very satisfying, and I hope you can get the same satisfaction when playing this map too. Map is most difficult to play against atlantean opponents, easier against barbarians. It is more difficult to play with barbarians, easier with empire. For easy mode, play empire vs 7 barbarians; for hard mode, play barbarians vs 7 atlanteans. P.S. Playing time is around 50 hours; if it's not your cup of cake, don't try this map. If you want a faster game, you can try to play with only 4 or 5 opponents. Hints: What? You really thought I was going to give hints there? What kind of challenge would it be then? MUAHAHAHAHA!
Basic Information:
| | |
| --- | --- |
| Author: | King of nowhere |
| World: | One World |
| Dimensions: | 320 x 320 |
| Max. Players: | 8 |
| Downloads: | 805 |
| Comments: | 4 |
| Rating: | |
| Upload: | by king_of_nowhere at 2016-01-10, 08:38 |
This map requires a version of Widelands build 19 or newer!

Download this map
Comments on this Map:
Reply to Original:
Log in to post comments!