News: Maintenance on the server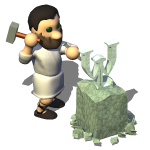 Maintenance work ahead!
Next weekend, July 4/5, the website and the meta server will not be available.
Our server requires an OS update. This unfortunately means a full reinstallation of all infrastructure. We plan to do all of this work on the coming weekend. During this operation on the server, it is unable to perform its duties - therefore website and meta server will not be functional during that time.
Update: Work has concluded. Website should be stable again. Please report any issues on sight.
---
8 comments
Posted by SirVer on 2015-06-26, 18:45
Comments on this Post:
Reply to Original:
Log in to post comments!