News: Map Contest: You are the jury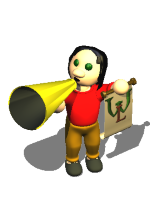 Time is running by as always and as the submission time for the contest is already over for some days, the jury has decided on the maps listet in the finals. The decission was pretty simple: All nine maps submitted will participate!
Now it's up to you, the community, to decide upon the winner. Every community member has exactly one vote to support a map.
But wait... it's still time to take a look at the maps before you give your final vote - the voting time will last until Sunday 25th August 2013 (23:59:59 CEST) - so one work week + two weekends.
So how to take a look at all the maps?
This topic is a bit (but just a bit) more complex. After build17, some changes have been implemented, making new maps incompatible to old Widelands versions + the sea expedition feature has been implemented after Build17. Therefore you need to have a development version to take a look at the contest maps (take a look at the download page, if you have never before used a Widelands development version).
In very recent development builds, that's everything you need to do - the contest maps are already delivered with the build. Just start a game or open the editor and select the maps from the sub-directory "Map Contest".
If the development version is some days old (e.g. at the time of writing, the Windows build), just copy the contense of this zip file into the "maps" directory of your Widelands directory resp. the user directory ~/.widelands/maps
Of course we will try to help you as soon as any problems occur. For this best use the webchat or the map contest forum thread.
Alright, that's it for now... go catch the maps and please participate with your vote

P.S.: Please note, that the map "Trident of Fire" provides a multiplayer scenario - whether this is a + for this map or not depends on your decission after playing it online

---
0 comments
Posted by Nasenbaer on 2013-08-16, 10:53
Comments on this Post:
Reply to Original:
Log in to post comments!