News: FreeForAll goes offline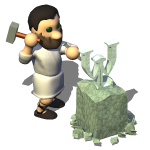 Hello Community,
did you use the dedicated server "!FreeForAll" in the last months? Or did you at least notice it?
No? Well okay, in that case never mind and ignore this post, if you like.
Anyways, !FreeForAll was my dedicated server running on a small local server over here in my (old) home. It was supposed to ease playing multiplayer games over the internet for those players that don't want or don't know how to set up their network connection for opening their own servers.
And indeed the server was used quite regulary. In average about two games were played each day and during these games the server helped to track down some nasty bugs in Widelands and it's network code. Most of those bugs were unknown before and as noone of the participating players reported them, they would still be unknown without the dedicated server...

Anyways as I move some hundred kilometers to a new flat in a new town with a new job, the dedicated server will be offline for a yet unknown time period. If you used !FreeForAll as solution to play online, I hope you find a good way to continue playing online (maybe the InternetGaming Wiki page can help you). If not, stay tuned, I hope to get the server online again as soon as possible.
For all the other brave ones out there: If you want to do some gamers a favor: Maybe you are willing to open your dedicated server for them? If yes, take a look at the DedicatedServer page in the wiki. And if you've got problems, I would be glad to even provide some personal e-Mail Support :).
Btw.: Widelands development is a bit slow at the moment, but I hope to increase it's speed in the near future again.

Stay tuned...
---
11 comments
Posted by Nasenbaer on 2012-11-29, 12:14
Comments on this Post:
Reply to Original:
Log in to post comments!