News: First snow feature freeze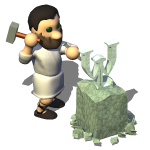 Nearly one week late
Our self-imposed deadline for the first-snow feature freeze was last wednesday. And we did what creative people do with a deadline: let it pass by.
But now we are ready to announce the first-snow feature freeze of build 17. What does that mean? It means that we commit to not breaking anything that is currently working and not changing any strings anymore so that translaters can work their magic. Mainly, we will no longer
add new features
fix style bugs
make functional changes to campaign maps and scenarios
tag or change strings
Only minimal invasive bug fixes are allowed for pressing bugs. And the media guys can add an image here and there (though I know that they have no immediate plans to do so).
What happens now?
We will test drive this release for another week. Winter time feature freeze is in roughly one week (scheduled for 26th March) - if there are no new problems. We will then offer a release candidate which is open for public testing (scheduled for 2nd April). This one will be in the open for at least two weeks. Then we will push the final release build 17. Assuming there are no further problems of course.
So people: get on it! Translate and play, test and report problems. In the freeze time it is more important than ever!
Update: One critical bug was fixed this last week. Otherwise we feel we are good to go and instantiate the feature freeze today. So, one more week till the release candidate must be ready. This means one more week to translate some more!
---
11 comments
Posted by SirVer on 2012-03-19, 19:45
Comments on this Post:
Reply to Original:
Log in to post comments!