News: Tournament Finals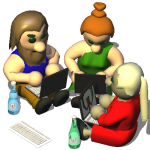 Finals Tonight!
Ladies and Gentlemen: The finals of the 2012 widelands tournament are tonight. ivh and ixprefect are battling it out - both will play Atlanteans. I suggest you hang around in our chat, maybe you get a chance to observe the game. Otherwise - I'll keep you posted and review the game as soon as I find a minute.
Update
The finals has been played and was quite nice: ixprefect got off to a good start while ivh had some trouble managing his wood economy at the beginning. ixprefect used this weakness and attacked very early backed by his stronger economy. ivh had no chance to come back. Congratulations to ixprefect for winning the second widelands tournament. As always, you can find the replays in the Wiki.
This concludes the tournament. Thanks goes out to Fopper for having the idea and organizing it. And thanks to all the players for the interesting games!
---
3 comments
Posted by SirVer on 2012-04-17, 09:19
Comments on this Post:
Reply to Original:
Log in to post comments!