News: WiHack 2011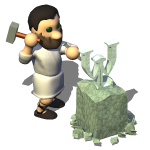 !WiHack 2011
And here we go again! The Date for the WiHackTwentyEleven has been fixed now. We will meet
from Friday 4th November till Sunday 6th November at the Entropia e.V..
So you see, we stick with the successful organisation that made the two former !WiHacks a success. We are very happy that the Entropia is hosting us again. Thanks guys!
Wi... what?
What? You do not know what the !WiHack is? You best get up to speed then:
Participating and more Info
Everyone can participate! If you can make it to Karlsruhe, you are invited. If you are a player, you are invited. If you are developer you are invited. If you are an artist you are invited. If you know nothing about Widelands... man, you better show up and join in!
More information:
Wiki: WiHackTwentyEleven - edit and add your infos and ideas!
Forum: Topic
---
0 comments
Posted by SirVer on 2011-09-20, 21:37
Comments on this Post:
Reply to Original:
Log in to post comments!