News: An old new eldest of graphics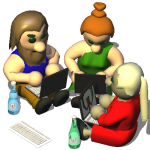 We have a new eldest of graphics...
Or sorta kind of. Alexia Death (death) took over the job again. She was busy for a while (and always is!), but her dedication for widelands never completely disappeared. Since she was doing most of the job of an eldest anyway, she was willing to take over the rest of the responsibilities again.
If you want to work on graphics, she is the one to talk to. She knows what needs work and how this work should be done. The best way to reach her is either through our Chat or through a Private Message. You can also post in the Graphics development forum.
Welcome back, Alexia!
---
1 comment
Posted by SirVer on 2009-04-14, 11:44
Comments on this Post:
Reply to Original:
Log in to post comments!