News: multiline-edit-boxes fixed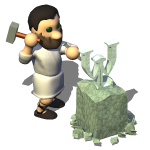 There has been a few updates to the SVN which will fix the problem of the multiline-edit-boxes being unusable. The newest SVN version is now 2828, released at about 15:30 GMT. If you have been having problems with the game, please patch to the latest release. If you still experience problems, please post a message in the forums.
---
0 comments
Posted by JonsJava on 2008-01-03, 21:38
Comments on this Post:
Reply to Original:
Log in to post comments!