News: New Full Version Out Soon!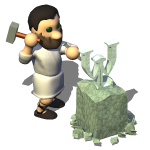 After a lot of hard work and behind the scenes action over the last year or so, the next full release of Widelands is finally about to be released.
A Feature Freeze is planned for the 20th February, so all development after this date should be only to fix existing problems/features.
First Release Candidate of Build 10 is due out the first weekend in March (3rd/4th).
Expect to see the long awaited Build 10 on the 20th March.
Many thanks to all the developers who are working very hard to make this next release possible.
---
0 comments
Posted by DaaL on 2007-02-18, 21:00
Comments on this Post:
Reply to Original:
Log in to post comments!