So, I have Pov-ray and some skill with it. So why not try whipping up some conscription center graphics?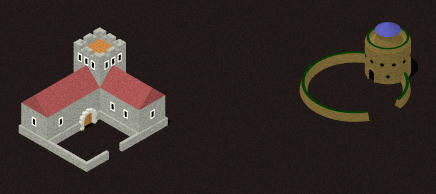 It's not perfect (in particular, I don't have the stone patterns used for Empire Castle and similar buildings, plus I need to adjust the lighting), but a bit of touching up should make them usable. And assuming these are doable, afterwards I'll start on the barbarians' conscription center, followed by a second tier of wells for everyone.
And, of course, if anyone's interested in the .pov, just let me know; I have no problem sharing it.