Map: fjords 1.1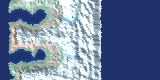 Description:
Living among the fjords is hard. Harsh wheather, lack of soil, scarce food. The breathtaking scenery won't keep you warm or fed. But you came here for the dream of a peaceful life. Nobody would ever want to invade such a place. Well, now that you mention it...
Hint:
You have a limited amount of large building slots available. Use them wisely. - Atlanteans have the advantavge in this map, as they need less large buildings than other tribes.
Comment by uploader:
the original fjords map was slightly unbalanced to give more space to the blue player. more important, though, it had some bugs regarding fishes. this new version fixes both of those problems. I also added some more fishes, to give a better playability to empire, which is penalized more than the other tribes by the paucity of large buildings.
Basic Information:
| | |
| --- | --- |
| Author: | King of nowhere |
| World: | One World |
| Dimensions: | 160 x 80 |
| Max. Players: | 2 |
| Downloads: | 571 |
| Comments: | 0 |
| Rating: | |
| Upload: | by king_of_nowhere at 2016-12-13, 23:30 |
This map requires a version of Widelands build 19 or newer!

Download this map
Comments on this Map:
Reply to Original:
Log in to post comments!